Do you love peanut butter? How about ice cream? These double peanut butter ice cream sandwiches are packed with peanut butter flavor, delicious chewy cookies, and sweet ice cream!
My kids can put away some serious ice cream, they love it year round but in the summer they will eat it almost daily! Most of the time I buy it in the carton, novelties like popsicles, or ice cream sandwiches seem to get eaten even faster. I guess the whole, having to scoop it, slows them down at least a little bit.
But there is something about a ice cream sandwich that just screams summer! I love them, and they are especially great with homemade cookies!!
The cookies are really the best thing about these peanut butter ice cream sandwiches… You could totally whip up a batch just to eat, in fact, I had to set some aside for super hubby because he loves them so much. I knew he'd want some to eat plain.
They are nice and thin, a little crispy, and nice and chewy. They aren't your typical peanut butter cookies texture wise, but they are full of peanut flavor!
Trust me, the recipe isn't exactly what you're used to but the end result is amazing. I chose to pair these with an ice cream that is packed with peanut butter flavor,hence the double peanut butter name, however what ice cream you use is up to you!
Here's what you'll need for these double peanut butter ice cream sandwiches! –
3/4- Cup All Purpose Flour
1- Stick Butter (softened)
1 & 1/4- Cup Packed Brown Sugar
1- Cup Peanut Butter
1- Egg
1- tsp Vanilla
1- tsp Baking Soda
Peanut butter swirl ice cream
First thing we want to do is cream together your butter, peanut butter, and sugar with an electric mixer. Beat until they are well mixed and fluffy. Now add in your egg and continue beating until it is well incorporated. Now add in your vanilla and baking soda, then gradually add in your flour. Scrape down the edges of your bowl making sure everything gets nice and mixed in.
Now, this dough is very soft, that's how it's supposed to be don't worry!
You want to refrigerate your dough now, pop it in the fridge for 30 minutes and let it thicken up a bit.
When you're ready to bake preheat your oven to 375 and line a baking sheet with parchment paper. Now I like nice big cookies so I use a dough scoop that is about 1 1/2 Tbsp. Scoop your dough onto your sheet leaving room for the cookies to expand.
Gently smush the scoops of dough to flatten them just a little.
Now pop them in the oven for 8-10 minutes or until they are nicely golden brown around the edge.
When they come out of the oven they are fragile, so let them sit on the cookie sheet and cool for about 4 minutes and then transfer them to a wire rack to cool completely.
Once your cookies are completely cool it's time to fill them with ice cream. Since the cookies are fragile you don't want to smush the ice cream with the cookie. Take your ice cream, get a big scoop and mash it into shape with your hands and place it on the cookie, then top it with another, voila peanut butter ice cream sandwiches!
You can eat them right away… which I know you'll want to do, or wrap them individually and keep them in the freezer for a quick delicious treat!
Now you have an amazing homemade ice cream treat to enjoy all summer long!!
What is your favorite way to enjoy ice cream? Have you ever made homemade ice cream sandwiches?
Before you leave you need to check out these other yummy summer foods that were shared in the SUMMER FUN series today. Check out all the summer fun posts over on Life Sew Savory.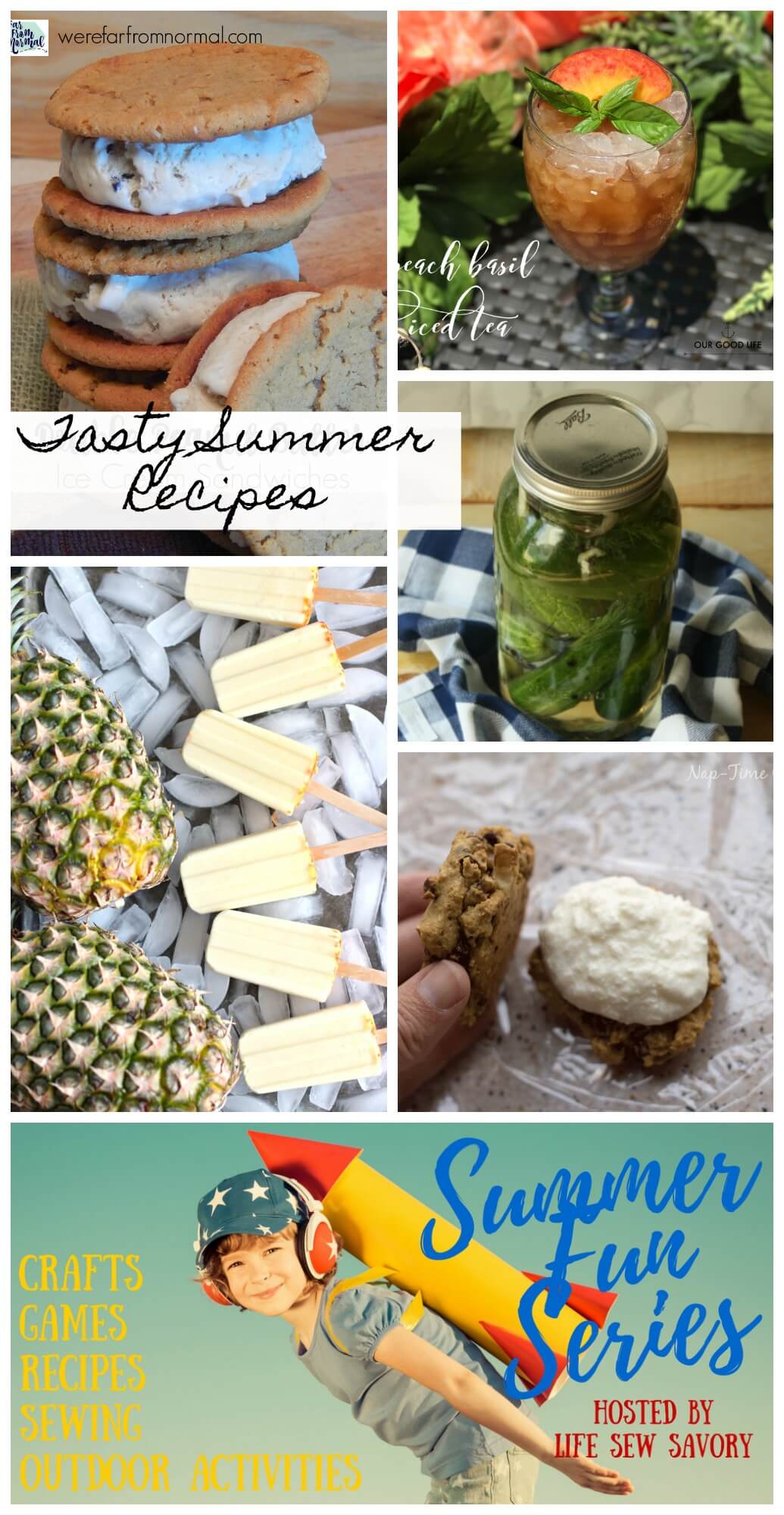 How to make your own Pickles from Mama Lew
Dole Whip Creamy Pinapple Popsicles from Mama Loves Food
Peanut Butter Ice Cream Sandwiches from We Are Far From Normal
Peach Basil Iced Tea from Our Good Life
Healthier version ice cream sandwich From Life Sew Savory